Unleash the full power of your data
Designed to help your organization work smarter and more efficiently.
Reduced development costs
Custom white-label branding
Highly scalable and customizable
Organization tools from Microsoft in one place
Request a demo
The ultimate solution for streamlining workflows and improving collaboration within your organization. Our powerful, flexible and Intelligent platform provides you with all the tools and data points you need, all in one place.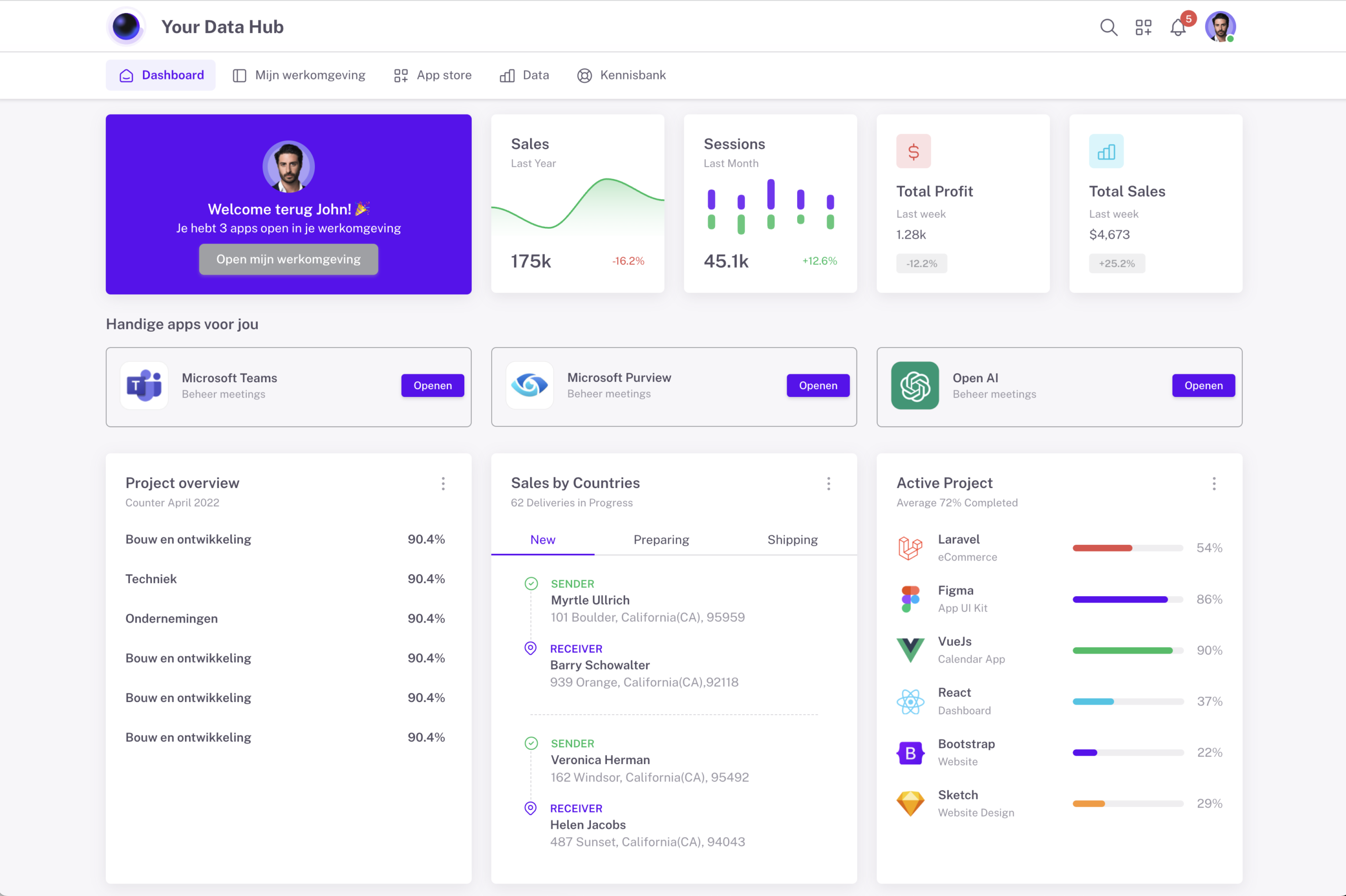 Integrations with your organization tools
Designed to help you organization work smarter and more efficiently
With Your Data Hub, you get all the benefits of a powerful data management platform without the need for extensive custom development. Our one master version allows for gradual addition of new features and capabilities as needed, while ensuring that your data is always secure and protected.
Custom widgets (data visualization)
YourDataHub allows users to create and customize widgets for data visualization, making it easier to analyze and interpret complex data. This feature enables users to display data in various formats, such as charts, graphs, and tables, facilitating better understanding and decision-making.
Integration with Microsoft
The platform seamlessly integrates with a wide range of Microsoft and third-party tools, including data visualization platforms like PowerBI and Spotfire. This feature enables users to leverage the best tools for their specific needs without dealing with complex integrations.
Get more value from your organization tools
Your Data Hub seamlessly integrates with a variety of third-party tools and services, including Microsoft Graph API, Power BI, and more.
Why your organization should use Your Data Hub?
One of the key features of Your Data Hub is our custom white-label branding, which allows each client to fully customize and brand their own dashboard, making it feel like their own product.
Reduced development costs
By offering a unified platform, YourDataHub eliminates the need for expensive customizations and integrations, resulting in cost savings for enterprises.
The platform utilizes an iframe feature, eliminating the need for multiple tabs and streamlining the process of accessing different applications.
By providing a comprehensive and user-friendly solution for data analysis, YourDataHub empowers enterprises to make data-driven decisions that lead to improved business outcomes.
Our easy onboarding process ensures that you'll be up and running with Your Data Hub in no time.
Our team of experts will work with you to personalize your dashboard, configure the platform to meet your organization's specific needs, and provide comprehensive training and support.
Frequently asked questions
Have questions about Your Data Hub? Check out our FAQ section for answers to some of the most commonly asked questions.
Ready to take your organization's workflows to the next level?
Designed to help your organization work smarter and more efficiently.
Reduced development costs
Custom white-label branding
Highly scalable and customizable
Organization tools from Microsoft in one place
Request a demo